The biggest threats that have faced humanity for a long time such as child mortality, natural disasters, poverty, global warming, nuclear war, and rogue biotechnology have all been overtaken by the emergence of the ongoing outbreak of coronavirus disease (COVID-19) that started in China in late 2019 and by March 2020 the disease had spread to countries around the world. The virus would later be declared a pandemic in March 2020. An important characteristic of this infectious disease that has guided the responses is its spread and severity. The fatality rate of COVID-19 has helped us understand its severity, identify at-risk populations, and evaluate the quality of healthcare. All these have been possible through the statistics that have been recorded and analyzed globally.
The differences in mortality between groups of people and countries have been important proxy indicators of the relative risk of death that guides policy and response decisions and how to take into account groups with different risk profiles, such as older people and those with underlying illness. COVID-19 has put an intense spotlight on statistics. Everybody, since the pandemic started, has been eager to know the latest news about the COVID-19 cases, the numbers of newly infected persons in their regions, death rates, economic consequences, and other facts so as to predict the trajectory of the pandemic and how their lives would be. One would say with no statistics, no information, and hence no intervention.
Kenya
Kenya has so far reported 101,009 cumulative cases, 83990 recoveries and 1766 deaths. Kenya's cases account for 3.91 % of all the cases in the Africa Region with an attack rate of 193.08 per 100 000 population. The CFR stands at 1.75%, while the recovery percentage is at 83.15% with 15,253 active cases.
Nairobi is still Kenya's epicenter. As of February 2, 2021, the capital had registered most of the confirmed COVID-19 cases in the country with 43,098. This amount corresponds to around 43 percent of the total cases reported in Kenya. Mombasa County follows with a total of 9,054 cases, whereas Kiambu, still within the Nairobi Metropolitan Region comes third with 6,500 infected people.
Africa
As of this publication, the total number of cases recorded in the continent stands at about 3.5 million.
South Africa, with more than 1.4 million cases, is the worst affected country according to official figures; its variant of the virus is starting to spread to at least 40 countries, the BBC reports. Morocco has reported 466 289, Tunisia 198 636, Egypt 161 817, Ethiopia 133 767 while Libya, Algeria, Nigeria, and Kenya have recorded more than 100,000 cases. Africa has a total of 85 395 deaths. South Africa is leading in the cases of deaths with a total of 40 874, Egypt at 8 959, Morocco at 8 150, Tunisia at 6 287 while Algeria has reported 2 863.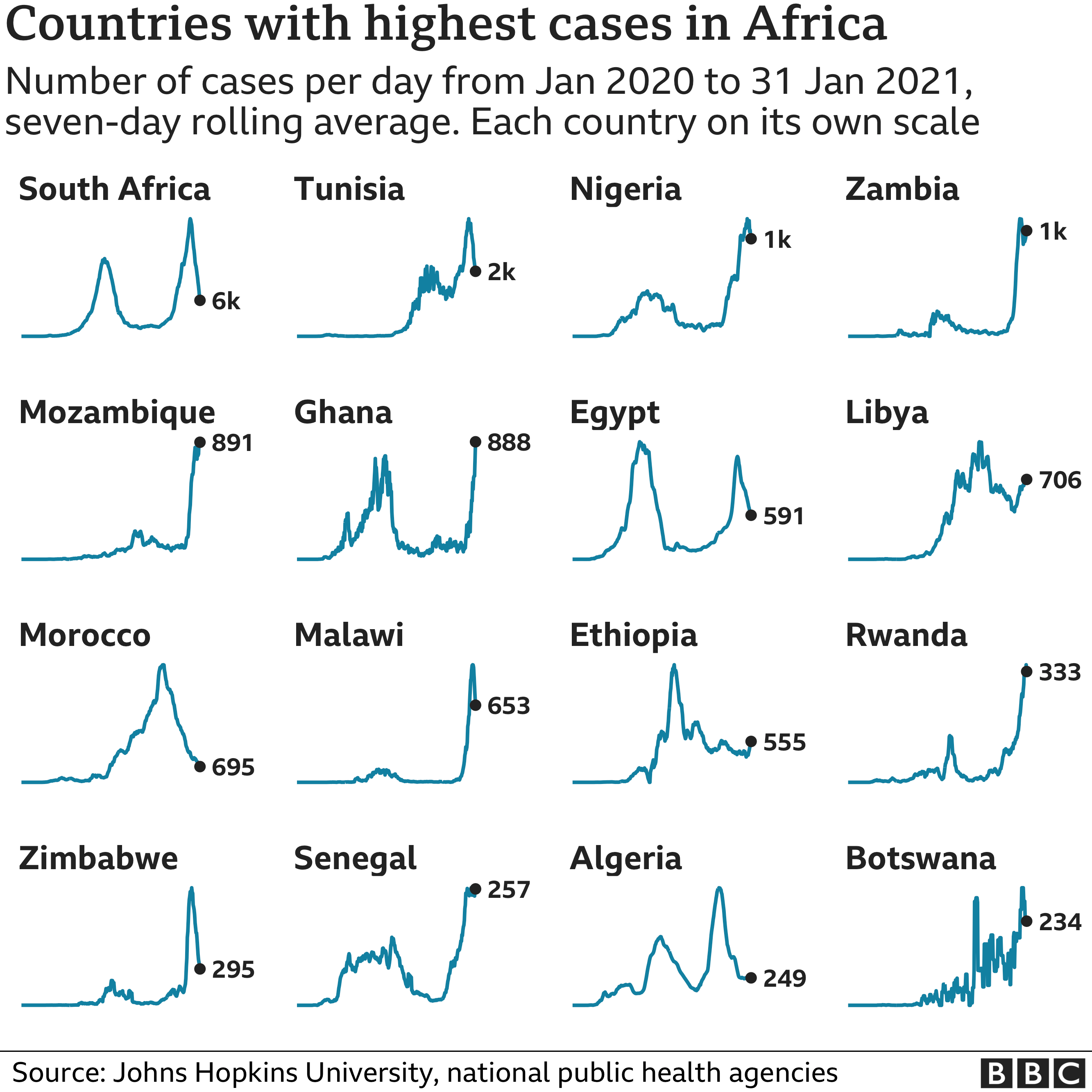 Europe
As of January 28, 2021, there were 32 218 360 confirmed cases of coronavirus across the whole of Europe since the first confirmed cases in France on January 25, 2020. Russia has been the worst affected country in Europe with 3 738 690 confirmed cases, followed by the United Kingdom with 3 647 463 cases. France has reported 3 053 617, Spain 2 593 382, and Italy 2 466 813. The continent has had a total of 701 991 deaths: The five countries reporting most deaths are the United Kingdom (97 939), Italy (85 461), France (73 049), Russia (69 918), and Spain (56 208).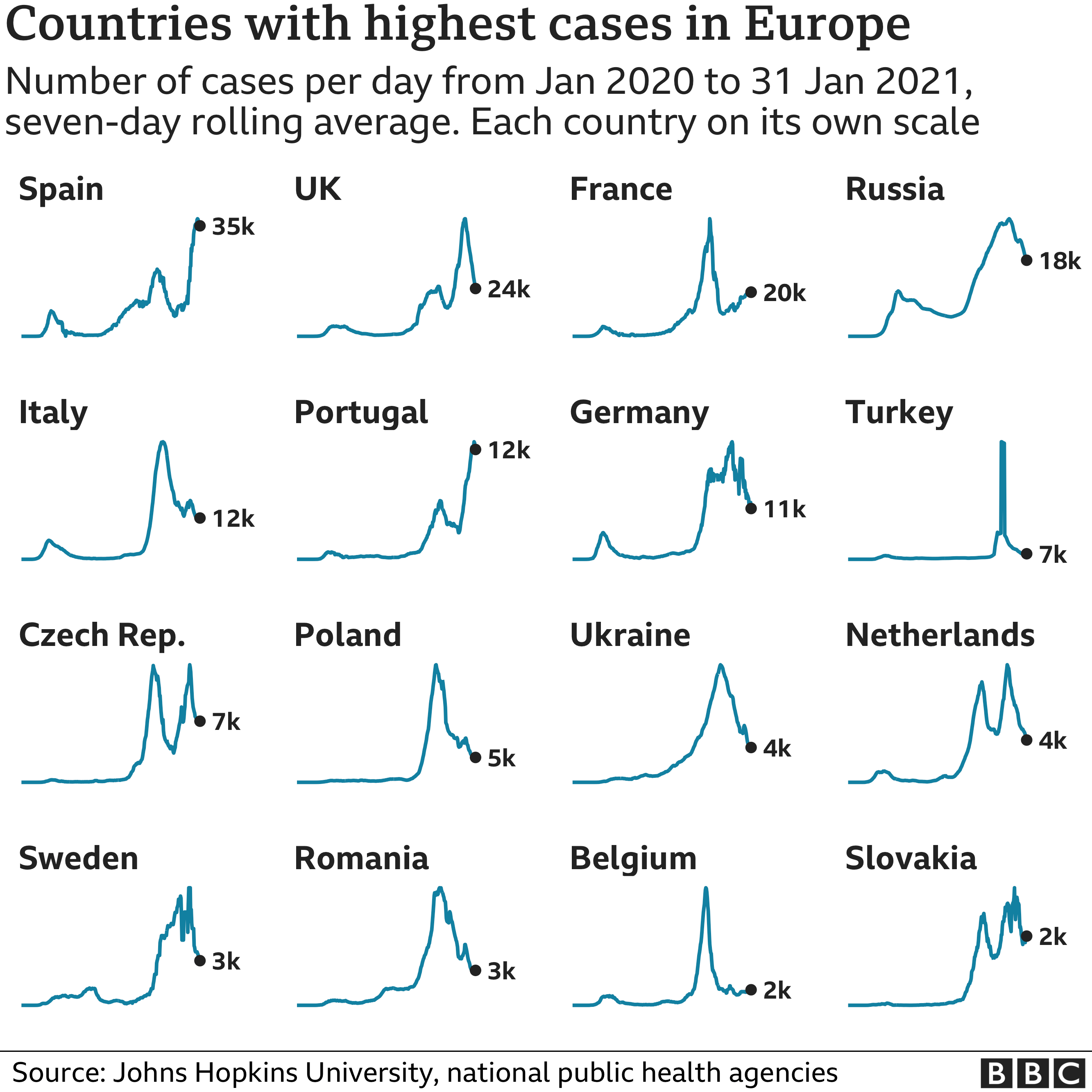 North America
The United States is leading with the number of infections and deaths in the continent, actually in the whole world. All its 50 states have been affected, with New York reporting the highest number of deaths and California and Texas with the highest number of cases. North America has a total of 44 467 429 cases; the United States at 25 297 071, Brazil at 8 871 393, Colombia (2 027 746), Argentina (1 874 784), and Mexico (1 771 740). A total of 1 018 269 deaths have been reported in the region.
Asia
The continent has recorded a total of 19 536 946 cases and 330 807 deaths. The five countries reporting most cases are India (10 667 736), Iran (1 372 977), Indonesia (989 262), Iraq (613 763), and Israel (601 069) while cases of deaths are India (153 470), Iran (57 383), Indonesia (27 835), Iraq (12 993) and Pakistan (11 318).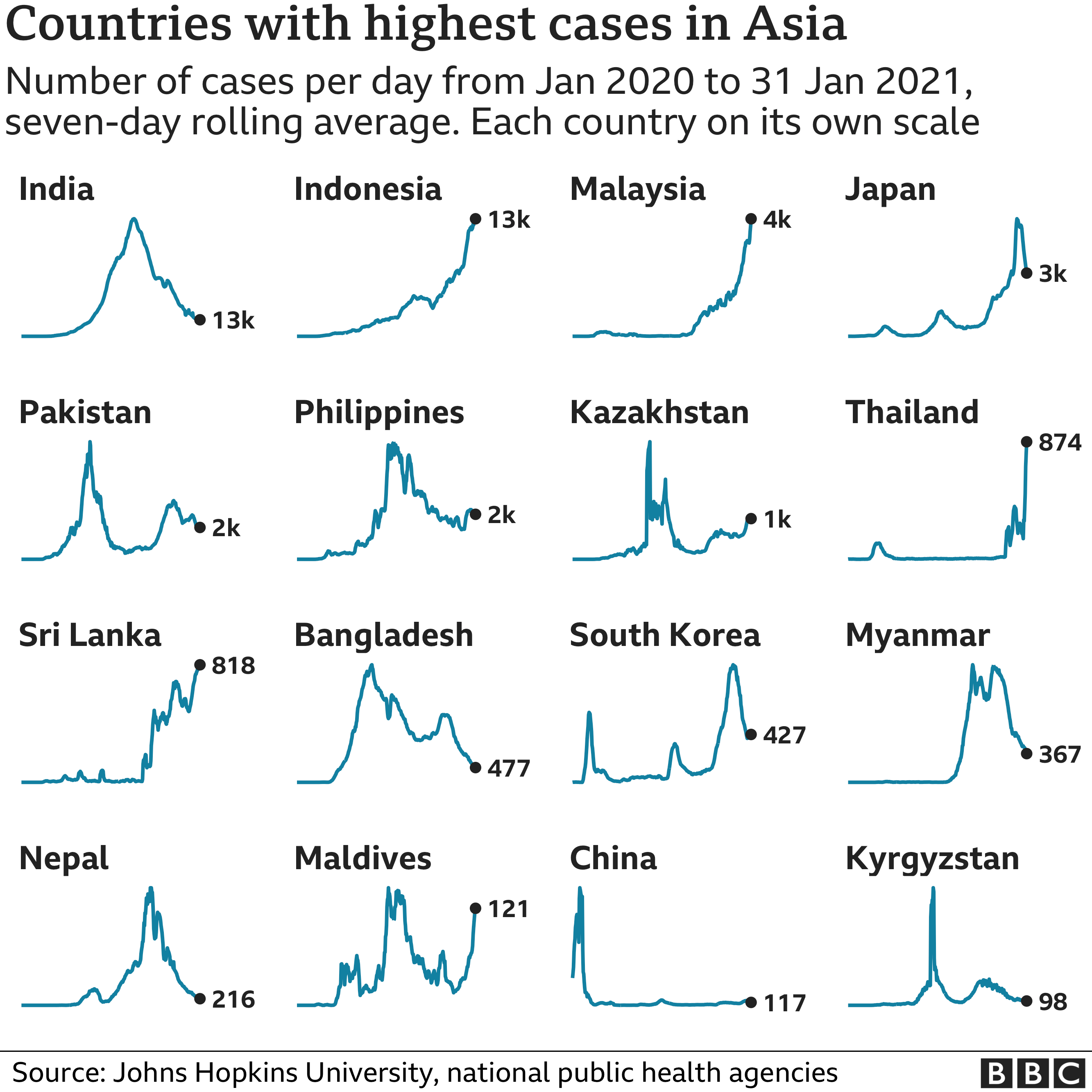 It is important to note that China, which is the virus country of origin, continues to report the fewest number of new cases according to the latest official data. The total number of COVID-19 cases reported in mainland China now stands at 89,619, recoveries at 83,467, while the death toll remained unchanged at 4,636.
Oceania
Oceania has reported 56 991 cases; the five countries reporting most cases are Australia (28 766), French Polynesia (17 635), Guam (7 554), New Zealand (1 932), and Papua New Guinea (849). The number of death cases stands at 1 202.
Globally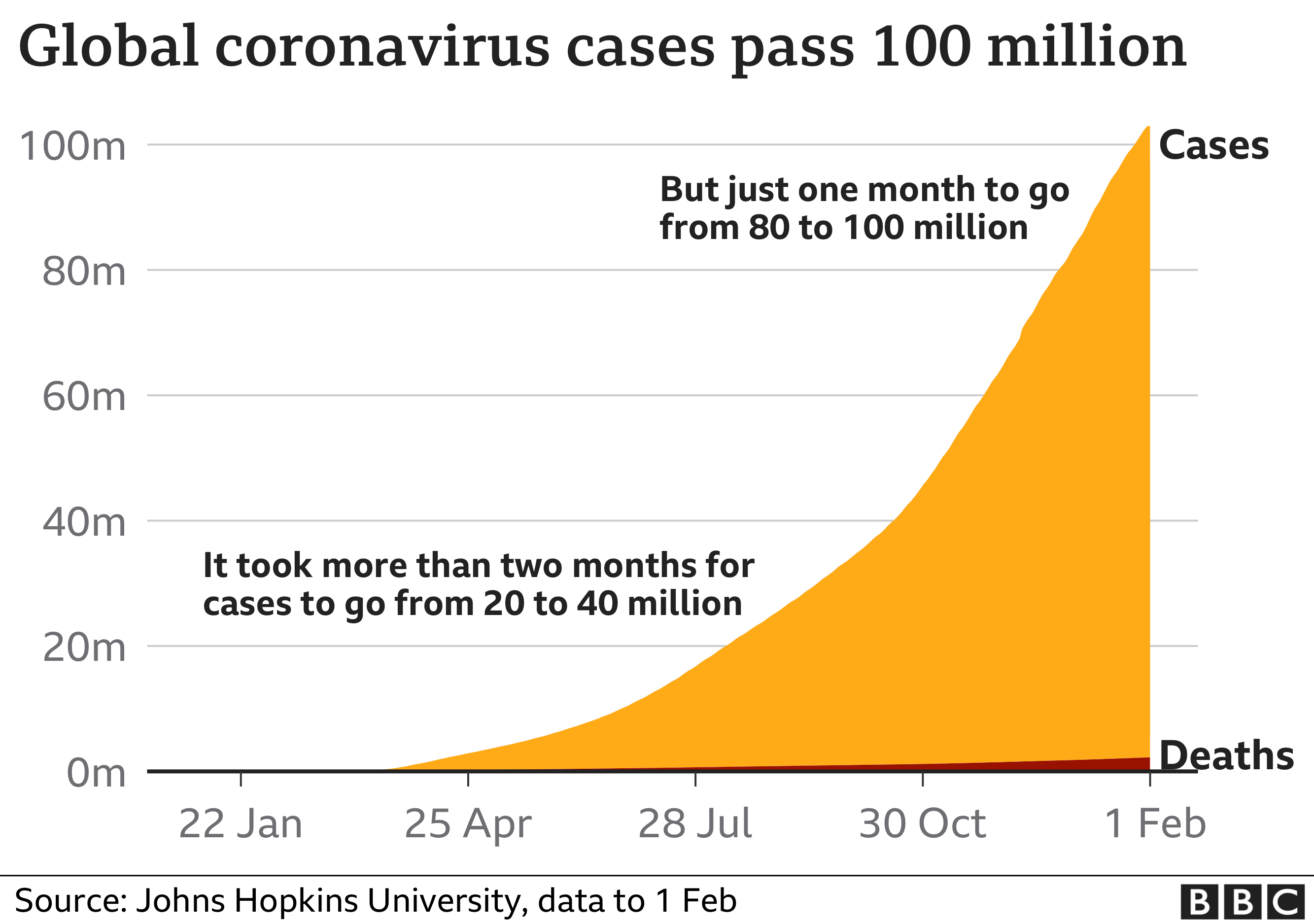 Globally, the coronavirus (COVID-19) infection continues to spread around, with over 104 million cases and over 2.26 million deaths as of February 3, 2021. The pandemic is still a threat to the lives of people with authorities now calling for fair distribution of vaccines.

On Saturday, WHO director-general Tedros Adhanom Ghebreyesus said that the pandemic had exposed and exploited global inequalities. He warned that it was useless for a 'small group of people to hoard all the extinguishers to defend their own houses when the whole village is on fire.'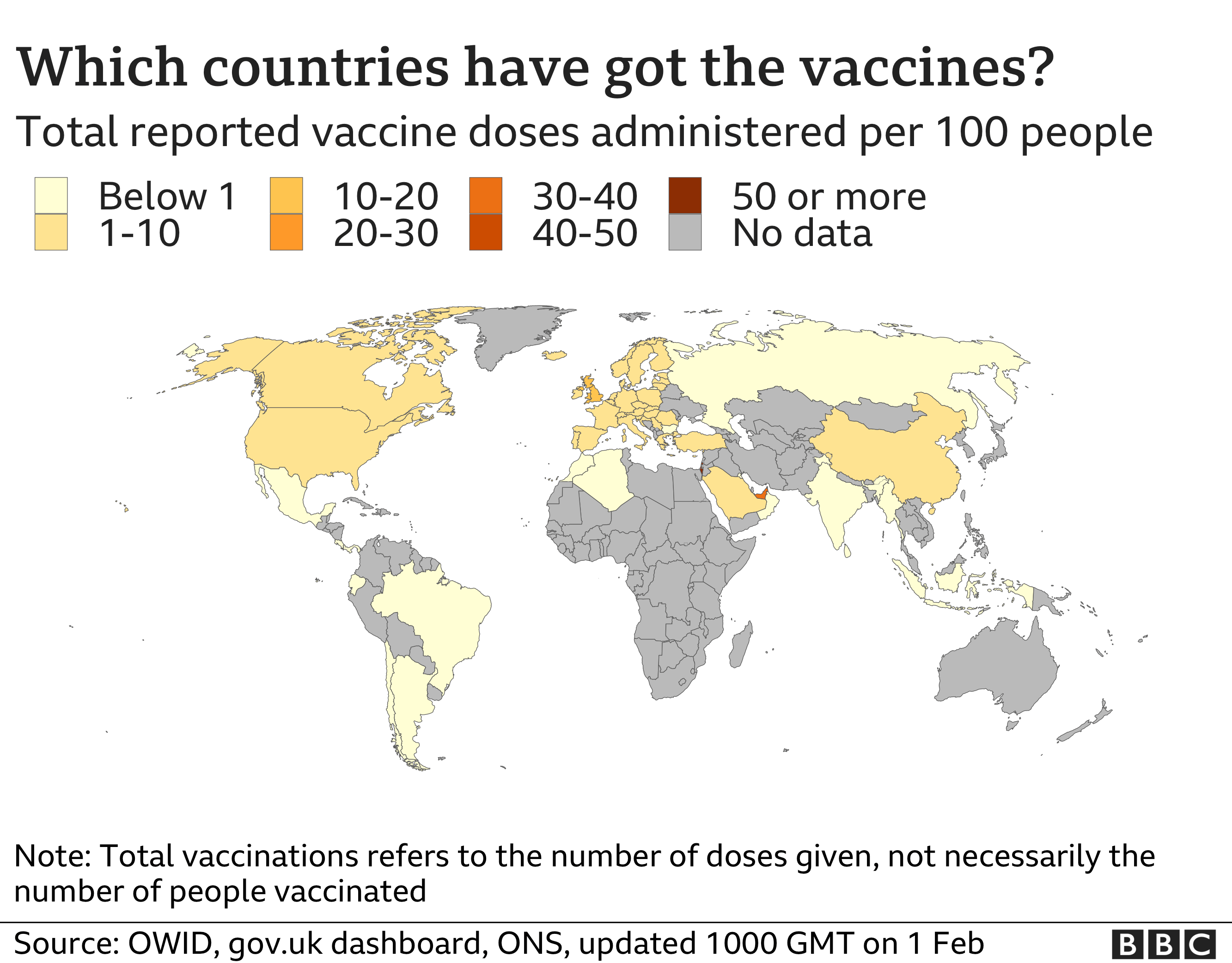 Developed countries such as the US, UK, and others have secured more vaccine doses for their populations, while other lower-income countries, especially in Africa are relying on a global plan, COVAX, which is seeking to ensure everyone in the world has access to a vaccine. The US has distributed nearly 50 million doses of the COVID-19 vaccine. China and UK have administered about twenty-three and nine million doses respectively.
Percentage of people vaccinated against COVID-19 [Statistica Data]
Reference:
1. Wordo Meters
2. The European Centre for Disease Prevention and Control
3. BBC News
4. Statistica
Read Also: The role of the media in the management of COVID-19 Pandemic
What is your opinion on the topic?